Exclusive Data: Competitiveness Report on Global Digital Asset Exchanges
Since China cut access to virtual currency transactions last year, other countries have followed to regulate virtual currency trading. Faced with continuously tightening global regulatory environment, the crypto craze has been steadily disappearing since 2018, and its feverish attraction last year has gone forever. According to Google Trends, Bitcoin's search popularity dropped by 83% from 100 points in December, 2017 to 17 points in April 2018.

Bitcoin Search Popularity Trend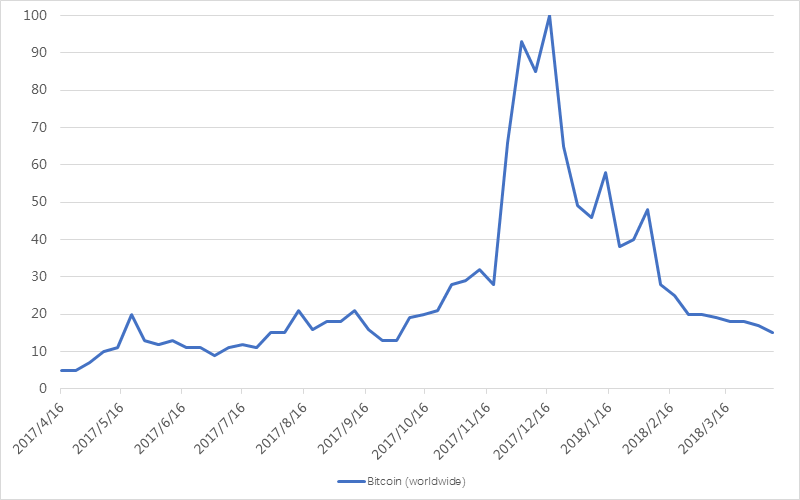 Desc: The vertical axis labels the search score based on search popularity. Words with the highest search frequency win 100 points, those with half that frequency get 50 points, and zero will be given to the least searched words.
The fading fad towards digital assets is not only shown on Google Trends, but WAU penetration rate of exchange apps. According to Cheetah Data, the WAU of Binance, Upbit and Bithumb peaked early January this year followed by a continuous drop, and now less than half of that at its peak. This also reflects the fact that users' fever for virtual currency is gradually cooling, and they tend to conduct virtual currency transactions more rationally.
Cheetah Data - Trend in WAU Penetration Rate of Popular Exchange Apps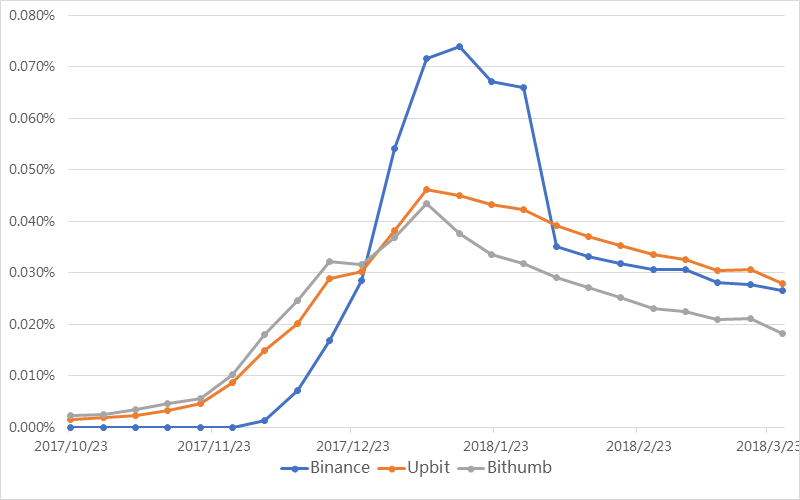 Desc: WAU Penetration Rate=WAU of a Specific App/Total WAU on Global Market
Data range: 2017/10/23 - 2018/3/26
Though the craze for digital assets abates, the number of digital asset exchanges keeps rising. According to Bitcoin.com, currently there are over 500 exchanges worldwide, and this number continues to grow. Over these exchanges, the most popular are Binance, Huobi.com, OKEx, Upbit, etc., and hundreds of them are even unknown to all due to geographical limitations.
Top 10 Global Exchanges by Turnover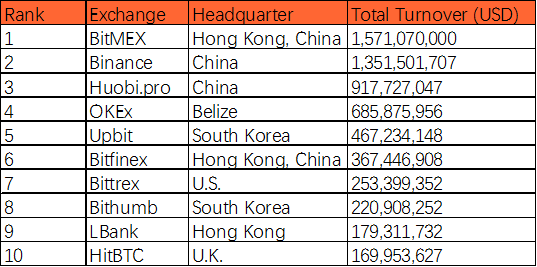 Data source: CoinMarketCap.com
Real-time update, data collected at April 11, 2018
From the above table we can see that top exchanges are mainly from China, South Korea and the U.S., which are exactly the world's most popular markets for digital asset trades. Most exchanges have developed their own app for user convenience, and we've made the following ranking list based on their MAU penetration rate. The top 3 exchanges with the most MAU are respectively Binance from China, Upbit and Bithumb from South Korea, and their combined MAU penetration rate has accounted 70% that of all exchanges.
Cheetah Data - Top 10 Global Exchanges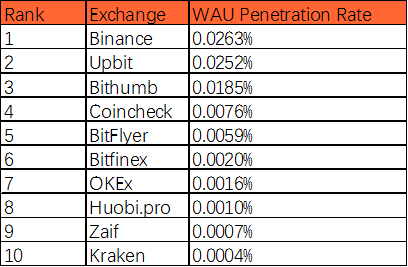 Desc: WAU Penetration Rate=WAU of a Specific App/Total WAU on Global Market
Data range: 2018/4/3 - 2018/4/9
Data collected manually and Android only
Next we're to analyze the performance of key exchanges in the recent period based on related info gathered by Cheetah Data.
------------China------------
Binance: Advancing Irresistibly into the Global Market
Binance was launched in July 2017, and less than two months later, it successfully raised millions of dollars in an investment round led by Black Hole Capital and Funcity Capital. Binance has shown a strong momentum of growth, and in just 6 months after it launched its first ICO project, it has become one of world's leading digital currency exchanges. Currently Binance remains steadily within the top 3 exchanges on CoinMarketCap.com.
The founder's being politically aware has played a vital role in Binance's success. Since its initial establishment, Binance aims to build itself as an international exchange platform, and expands its operations worldwide. Meanwhile, Binance does not support any fiat currency transactions, and only cryptocurrency can be traded on it.
Currently nine languages are available on Binance, including Chinese, English and Japanese. According to Cheetah Data, users of Binance can be found all over the world, and a large proportion of them are from the U.S., Turkey and India.
Cheetah Data - Binance User Distribution
Data range: 2018/4/3 - 2018/4/10
In terms of app usage, 55% of Binance users normally spend 1-5 minutes on it only to view daily market details. Binance's competitive advantage of super fast speed with limit of 1.4 million orders per second and no deay in processing transactions may have also contributed to this.
Cheetah Data - Binance Usage Statistics
Desc: Half-closed intervals with endpoints on the right side not included therein
Data range: 2018/4/8
Huobi.pro: China's leading exchange that is marching towards overseas market
Huobi was founded in 2013. It not only provides a platform for digital asset trades, but also expands itself into R&D of blockchain technology, blockchain-powered media, blockchain investment, etc.
During the initial period when Huobi was launched, its founder Li Lin announced that no fees would be claimed for Bitcoin transactions, making it China's first digital asset trading platform that is free from transaction fees. This move has attracted a large number of users for Huobi, and it has once secured a market share of over 50% in global Bitcoin exchange market, and successfully financed by ZhenFund and Sequoia Capital.
According to Cheetah Data, among all Huobi users, those above 30 years old account for up to 74.26%.
Cheetah Data - Huobi User Persona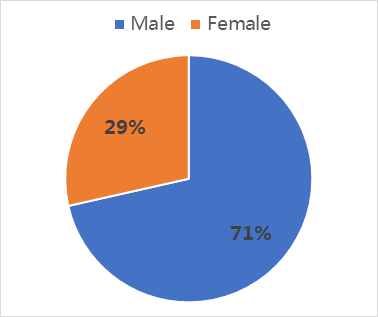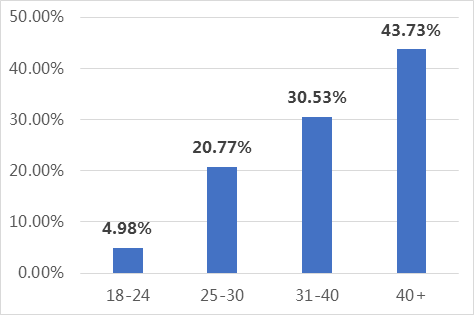 Desc: Users under 18 are not included therein
After state regulators put a ban on Bitcoin transactions, Huobi actively took a series of measures: it suspended the registration service and RMB recharges at 21:30 on September 15, 2017. It got all its users notified about CNY trading closing before September 30; it stopped all its CNY trading on October 31. It can be seen clearly on Cheetah Data that Huobi's WAU in China has decreased continuously since September 15, and its penetration rate has dropped from the top 0.0169% to 0.0022% right now.
Cheetah Data - Huobi WAU Penetration Rate Trend in China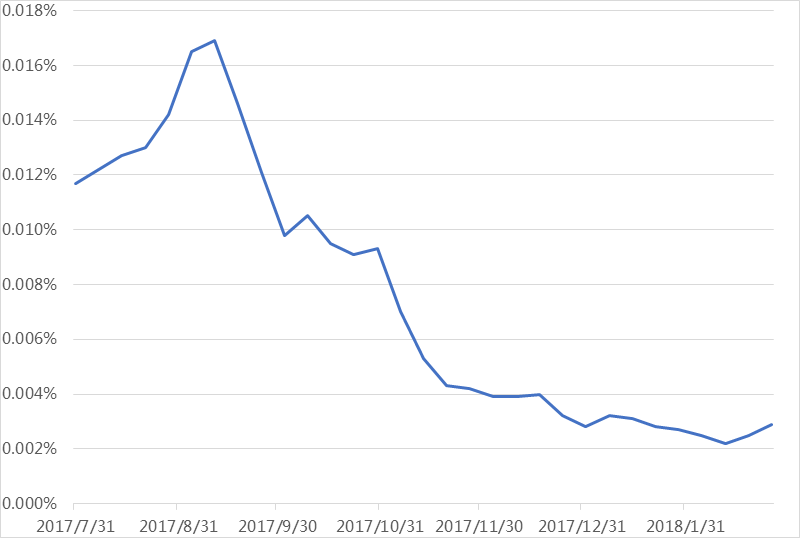 Desc: WAU Penetration Rate=WAU of a Specific App/Total WAU on the China Market
Data range: 2017/7/31 - 2018/2/26
Faced with China's regulatory provisions, Huobi adjusted its business line based on a global vision, and currently it has spread its business into many countries and regions including Singapore, the U.S., South Korea and Hong Kong. On March 30, 2017, Huobi officially launched in South Korea supporting 100 coins traded across 208 markets (33 USDT markets, 98 BTC markets and 77 ETH markets).
------------South Korea------------
Bithumb: World's Largest Ethereum Market & Multiple Business Lines
Since the beginning of service in January 2014, Bithumb has grown rapidly into one of the five Bitcoin exchanges in the world. According to CoinMarketCap.com, Bitcoin hosts 13,000 bitcoins worth of trading volume daily, accounting for 10% of the global bitcoin trade. It's also the world's largest Ethereum market, and over 44% of Ethereum transactions in South Korea are finished on it.
As Bithumb is an exchange located in South Korea, it's no wonder among all its users, a majority of them use Samsung phones, with LG phones followed behind. Users holding phones of these two brands account for over 96% of the total.
Cheetah Data - Bithumb User Phone Brand Distribution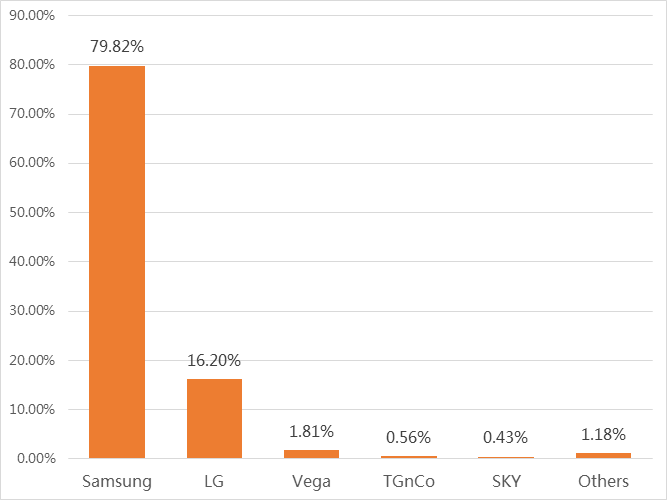 Data range: 2018/3/26 - 2018/4/1
Android only
Currently, Bithumb not only supports transactions of multiple currencies, but expands its business into the payments market and overseas remittance services. It has also established itself into a financial platform business focusing on cryptocurrencies.
Upbit: Fledgling Exchange Focusing on Local Operations
In late October 2017, as one of the largest digital asset exchanges in South Korea, Upbit was created and launched by South Korea's Kakao partnered financial and mobile technology company Dunamu along with US-based Bittrex. Currently, Upbit supports more than 200 trading pairs and over 110 tokens. According to CoinMarketCap.com, Bithumb was once South Korea's largest digital asset exchange with its market share reaching 70% of the total. But now, they are evenly matched.
KakaoTalk is the South Korean version of WeChat, and nearly 90% of phone users in South Korea have installed this app. Leveraging KakaoTalk's massive user base and the good performance of the stock trading app Kakao Stock, Upbit showed explosive growth within two months after its launch, with the annual sales reaching KRW 211.4 bn (RMB 1.259 bn) in 2017, and net profit about KRW 109.3 bn (RMB 651 million). It can also be seen on Cheetah Data that the number of Upbit users has reached a historical peak in just two months.
Cheetah Data - Upbit WAU Growth Trend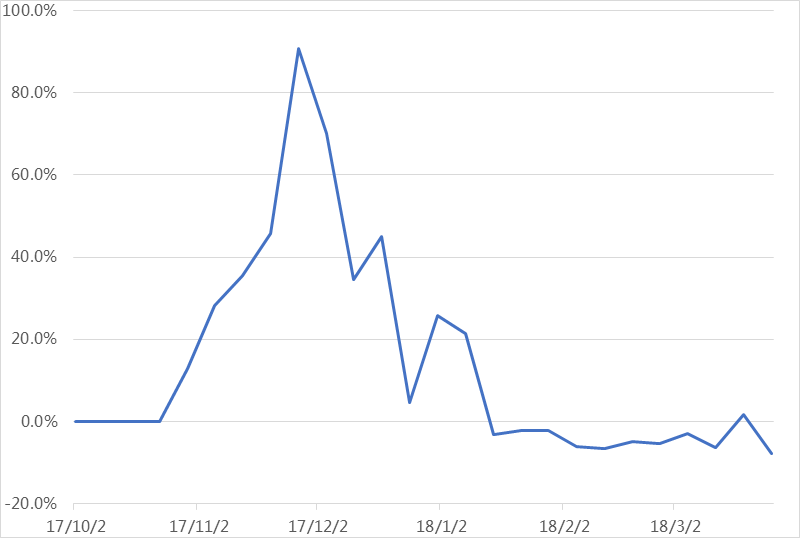 Desc: WAU Growth Rate=(WAU of Current Time Period - WAU of Last Time Period) / WAU of Last Time Period
Data range: 2017/10/2 - 2018/3/26
Different from the global layout of China's exchanges, most Upbit users are South Korean. Users from Seoul take up 60% of the total, with Inchon, Anyang and Busan left far behind. It can be seen that a majority of digital asset exchange app users are still from economically developed regions and areas.
Cheetah Data - Upbit User Location Distribution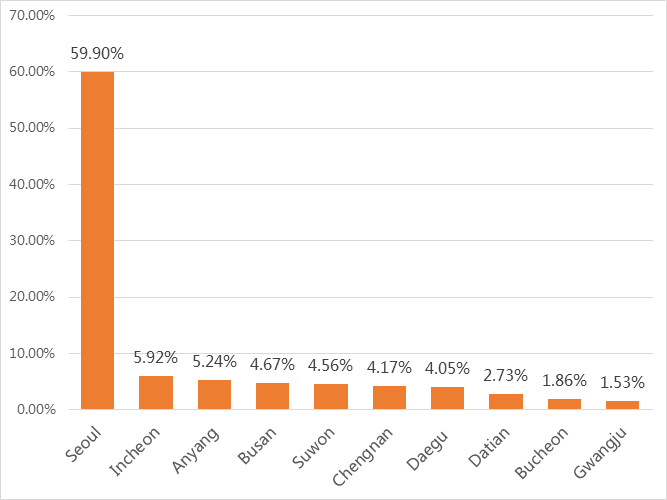 Data range: 2018/3/26 - 2018/4/1
Android only
In terms of future planning, Upbit said in late March that it would invest KRW 100 bn ($92.5 million) in the blockchain industry over the next three years, and it has now cooperated with digital currency tracking company Chainalysis to create a healthy and secure environment for digital asset transactions.
GIven that regulatory policies of each country on exchanges may change within a very short period, you have to be far-sighted and wise enough if you want to have your exchange perform well.
Ordinary people tend to choose exchanges that are more secure, convenient and cost-effective. Seeing that many users of exchanges are suffering loss from hacker attack, safety is considered the first priority in digital asset trades. Any exchanges, big or small, exist potential safety risks. So to reduce the risks to the most extent, be sure your assets are kept in your personal wallet and will only be transferred to your exchange account when a trade has to be made.
Having realized the importance of security, many companies have launched mobile-based wallet apps for digital currency, like SafeWallet developed by Cheetah Mobile, which can maximumly secure users' digital assets from loss or theft.
BTY, please note that blockchain technology will surely be applied in a broad range of fields other than digital asset management.